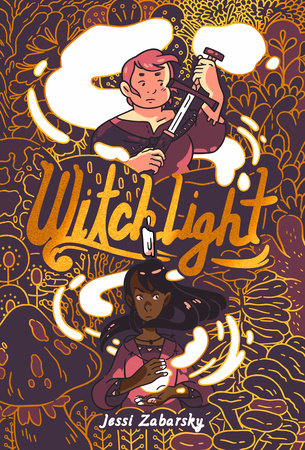 *Huge thank you to Random House Graphic for an ARC in exchange for an honest review*
⭐⭐⭐⭐
Sanja is an ordinary girl living an ordinary life when she meets Lelek the witch. The two set off to adventure together, and as they become closer their pasts begin coming to light. Being vulnerable is not something either is used to, and the pair struggle to navigate through all the secrets together, all while searching for answers to Lelek's questions.
Witches, gays, adventure, this book had everything I love about graphic novels. First off, the cover art. I knew I wanted to read this book as soon as I saw the cover, because let's face it, I'm a sucker for lush illustrations and witches. I didn't realize that Sanja was a girl based on the cover art, so being able to read it and see the LGBT+ aspects was a bonus for me!
Then there was the story itself: it started off as many books with women protagonists do, with a girl living an ordinary life and then is suddenly thrust into a life of adventure. The difference with this story is how the author portrayed the two women: in a naked, vulnerable, and honest way. Each character had their own set of flaws, and unlike most stories, these two didn't have all the answers or all the wisdom to handle the situations that arose gracefully.
The two fumbled through what it meant to be close in such an innocent and honest way, it made me want to protect them from any outside danger. But obviously, since they're fictional, I couldn't, so I had to sit there and watch them make mistakes and get into trouble while screaming at them to stop. Overall a very awkward situation given I was in a coffee shop at the time.
Overall a magnificent story, with sensational illustrations. My only critique would be that I wish it was longer and had gone into more detail about certain things. I'm hoping the author makes a sequel to this as I'd love to know more about this whole world in general.